Hi, I'm Seiji. I attended JAWS DAYS which is the biggest annual event of Japan AWS User Group (JAWS-UG) as a staff and a speaker for this year again. The catchword for this time is "No borders". I felt that JAWS DAYS has been refreshed by new members. Especially, thanks to lots of International guests and volunteer staff, it has more internationalize than before.
Event summary:
Date March 10, 2018
Website https://jawsdays2018.jaws-ug.jp/
Volunteer members 150+
Speakers 80+
Entrants 2,000+
Attendees 1,400+
Company supporters 32
Media supporters 3
The most impressive thing for me was that I had a lot of chances to talk and having collaborations with our special International guests who is AWS Vice President & Chief Evangelist Mr. Jeff Barr and many other famous technical evangelists, managers and Asian AWS User Group organizers. It has also made our event more interesting for many nationalities people who live in Japan. Because it had been difficult for them to attend event which was held all in Japanese language.
And I was given an unexpected chance to deliver presentation as a keynote session. I talked about two things. The first thing is the power of our community that I learned from leaders like my "Jedi Masters" since 2013. I'd like to share these things with many people in the world as I was given from my Jedi Masters.
The second thing is my proposal for AWS to expand our International community relationship. The idea is making new service "AWS Global Community Support Program". It's a supporting program for worldwide user group to develop International relationship.
Some Asian AWS User Group member and I were invited to AWS Summit Seoul, AWS Summit Beijing and AWS Community day in Seoul as official speakers. These were great chances to get deepen engagement with each other and it has been a driving force to growth Asian User Group.
I hope it won't be a moment, it will be the movement of the worldwide community. I hope AWS expand these chances as an official service, and will be shared with young people who want to learn technologies through AWS, and they will become new Jedies by that service. So, I honestly hope my idea will be realized someday. It's so cool, Isn't it?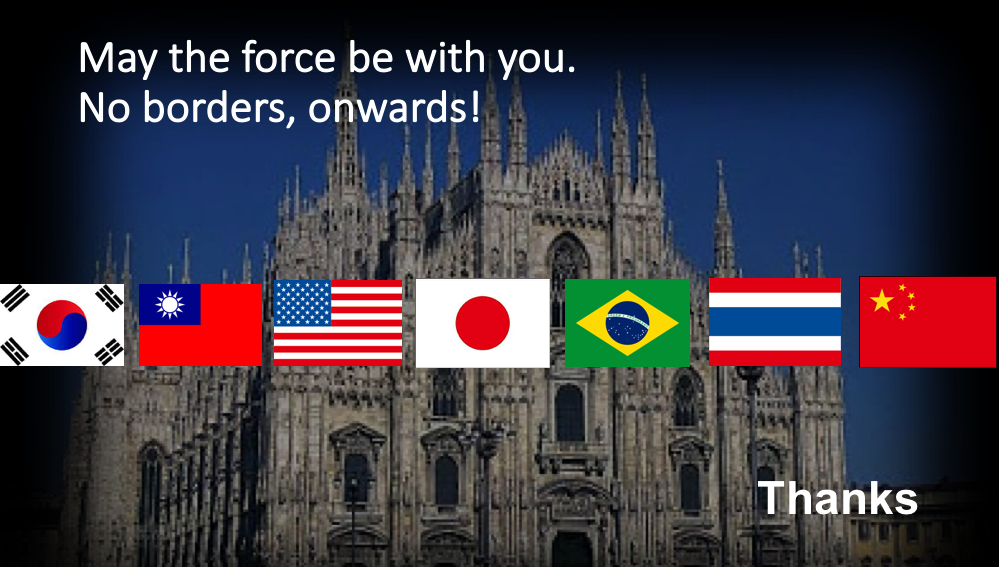 No borders, onwards! Thanks.